Festive Season At The Lookout
A culinary experience with the best views across Edinburgh
Festive Menu
Our menus change in harmony with the seasons and our festive menus are no exception. Carefully curated to make the most of the seasons plentiful larder our menus offer the best of locality and an inventive take on some traditional classics. Embark on a truly memorable festive celebration this December in our award winning restaurant. With unrivalled views across the city skyline and Firth of Forth, you can truly appreciate and enjoy Edinburgh under its festive grandeur.
Lunch - 3 courses £40 per person
Dinner - 6 courses £80 per person
Open for breakfast Tuesday to Sunday and lunch and dinner everyday this December.
Available from 29 November to 31 December 2019.

Christmas Day at The Lookout
Start a new tradition with us this year…
Indulge and create great memories in the most fabulous surroundings - enjoy the theatre from our open kitchen and watch the chef's prepare four course Christmas Day dinner with a difference.
4 courses with a glass of Champagne on arrival £130 per person
12:00pm or 3:30pm, 25 December 2019
New Year's Eve at The Lookout
A decadent end to 2019!
We'll take you on a wonderful journey through five or seven impeccable courses whilst you take in spectacular panoramic views across Edinburgh, the Firth of Forth and beyond.
We are offering two sittings so you can dine before joining the street party below or enjoy an atmospheric dining event to bring in the bells with us.
5-6pm: 5 course dinner £150 per person includes a glass of Champagne on arrival
From 8:30pm: 7 courses £250 per person including a glass of Champagne on arrival, tea/coffee & petits fours, and a dram/glass of champagne before the bells.
Arrive to a glass of champagne as you're seated for dinner. As midnight approaches, our guests will make their way outside to experience the breath-taking city-skyline views from our terrace as Edinburgh prepares to bring in the new year.
31 December 2019
New Year's Day at The Lookout
A spectacular start to the new year!
Come together with friends and family to toast the start of the New Year in style with breath-taking, panoramic views across the city.
Champagne Breakfast 10am - 1pm, £50
Indulge in a breakfast to remember featuring fresh Scottish seafood, East Coast Cured meats, cheeses by I.J. Mellis, breads, pastries, homemade preserves alongside that all-important glass of champagne.
Dining from 2:30pm
Enjoy a brisk walk up Calton Hill on New Year's Day and be rewarded with a superb lunch and the best views of the city. We'll be serving our seasonal set menu is a must for locals and tourists alike whom wish to Strat the year off right with an imaginative culinary experience.
6 courses £80 per person
01 January 2020
To make a reservation, please click below or email eat@thelookoutedinburgh.co or call 0131 322 1246.
Share the joy of a dining experience in The Lookout restaurant with one of our gift packages. From Champagne brunches to fine dining experiences there is a range of options to suit everyone's tastes.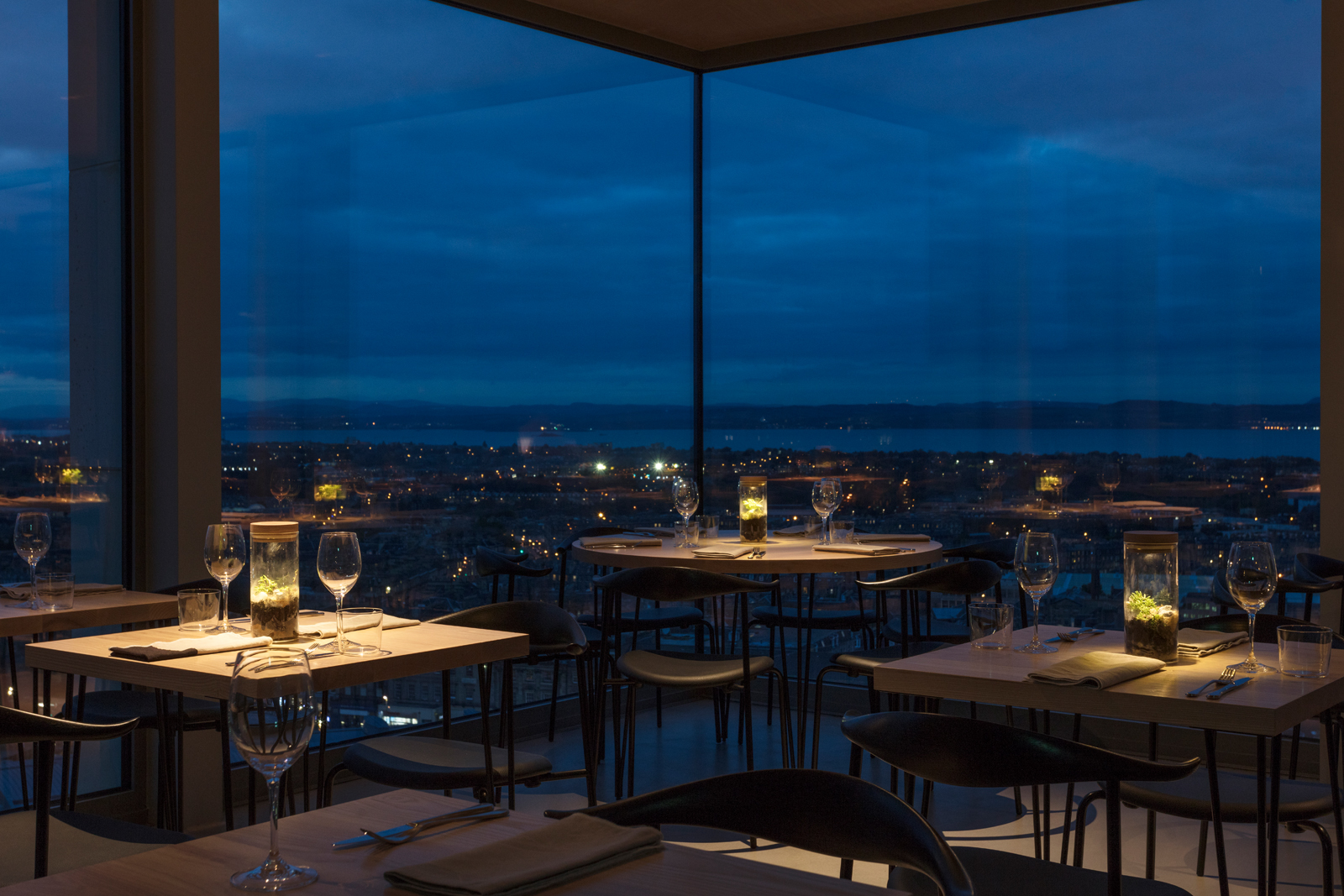 The Lookout is available on an exclusive basis for breakfast, lunch & dinner. The main restaurant can accommodate up to 42 guest for a seated dinner. There are also smaller private dining rooms available for groups of 6-14 with their own break taking views and iconic surroundings.
Hogmanay packages available on request for private dining.
TERMS AND CONDITIONS
Full pre payment is required for our Christmas Day, New Years eve and New Years Day packages. Prepayment must be received before 08 November 2019, if full payment for reservation is not received by this date, we have the right to cancel reservation. We only accept one block method of payment for any reservation. In the event of a cancellation by either party, all payments paid are non-refundable or transferable. Amendments to final numbers and any dietary requirements are requested no later than 5 days in advance of your event. The venue will make every effort to cater for extra guests but cannot guarantee to do so. The Lookout will endeavour to accommodate specific requests regarding your preferred table plan, however, we cannot guarantee that every requirement will be met.